While COVID has hampered some of our more visible activities during the past year, in the background, we have been busier than ever.
As pledged at last year's AGM, we have developed a new brand that better reflects who we are and what we want to achieve. Due to be revealed shortly, the rebrand will be accompanied by a new website which is in its final stages of production.
These changes will provide us with renewed vigour and focus ahead of the all-important federal election. They are centred around bringing people together and aim to appeal to a wider audience and expand our supporter base.
On behalf of the Committee, I would like to extend our gratitude to supporter and graphic designer Peter, who developed our new brand pro-bono. Peter donated his expertise and dozens of hours of his time, and we cannot thank him enough for his extremely generous contribution.
Supporters like Peter are a testament to what can be achieved when we work together. We are compiling a list of supporters who are interested in contributing their talents in a similar way – please email info@stopliveexports.org if you have a skill set that could be of assistance in our efforts to end live exports and you would like to be included in the list. Thank you!
In addition to our rebrand and new website, we have also been developing a strategic plan to help guide our future direction. We have sought input from key stakeholders in the private and government arenas and strengthening strategic partnerships and working collaboratively will play a central role for us moving forward.|
We'll need your help spreading the word about our fresh look and feel and generating momentum as we roll out the initiatives in our strategy in the lead up to the election, so keep calm and stay tuned!
Another big change for us this year was the relocation of our campaign manager Katrina Love to Tasmania. Despite her sea change, Katrina continues to work part-time managing our day-to-day operations, contributing her extensive experience and passion for ending live exports from afar. Our huge appreciation and thanks for your ongoing dedication to the animals and hard work behind the scenes, Katrina.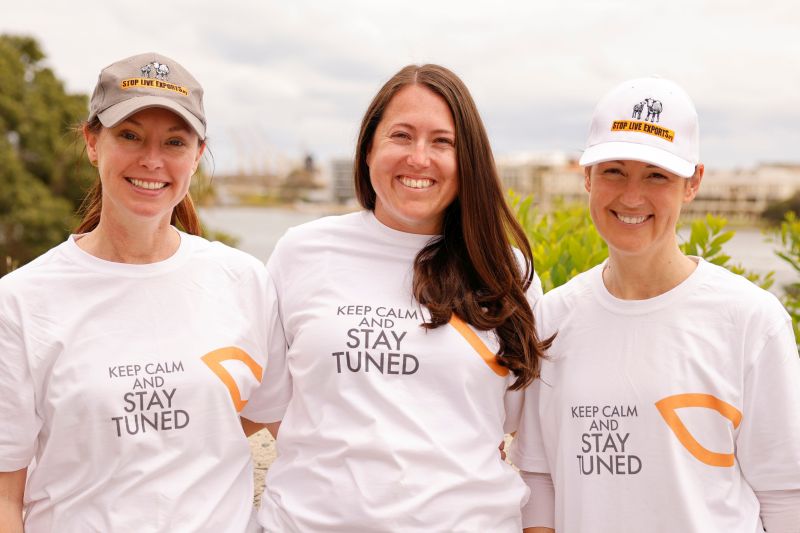 In terms of Committee movements… newest member, Brenda McAuliffe, has made a big impact in her first year since joining the Committee. Brenda has been instrumental in our new positioning and the delivery of our website project.
Our longstanding Secretary, Alicia Sutton and Treasurer, Nicole Arielli have continued to provide a wealth of knowledge and act as a steady, guiding force, especially for us newcomers. They keep us on track, and we couldn't achieve as much as we have without their expertise and unwavering support.
We recently farewelled Sarah Gould, but she continues to be an avid supporter and actively involved, most recently volunteering at the Human Chain earlier this month. Many thanks for your time on the Committee and continued contribution Sarah.
To all of our wonderful volunteers who continue to support us in various ways, whether it be helping with stocktakes, managing online merchandise orders or assisting at events – you are an integral part of our team, and we remain eternally grateful that we can count on you.
Thanks also to cinematographer John who volunteered his time and state-of-the-art equipment to capture footage of this year's Human Chain. We look forward to sharing some of his work on our new website soon!
Lastly, a HUGE thank you to everyone who attended our 11th Human Chain on 17 October. We cannot achieve an end to live exports and a transition to more humane alternatives without your support. With the federal election looming, it has never been more important that we are seen and counted, so thank you for giving an hour of your time to champion better welfare outcomes for farmed animals.
Photos that showcase our diverse array of supporters and their families and friends are on our Facebook page.
I am extremely proud of all we have achieved this year and we look forward to sharing our exciting next steps with you soon and to your continued support and engagement.
Rebecca
President